Client Case Study – CFC Syndicate 1988
Speed to market
Asta helps CFC navigate the Lloyd's entry process and secures approval to underwrite in just under six months.
CFC Syndicate 1988 – the ambition
CFC is a specialist insurance provider, pioneer in emerging risk and global leader in cyber. Operating one of the most successful tech-led global insurance platforms, CFC focuses on new economy risks brought about by the intersection of technology and business. With a long-term vision of entering new and growing markets, CFC approached Asta to help establish a new syndicate at Lloyd's to support an integrated growth strategy aimed at creating the first global automated specialty insurance platform.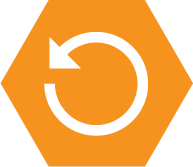 Background
20 Year Track Record of Innovation & Growth
Founded in 1999, CFC has grown to become one of the largest independent MGAs globally
Over 100,000 policyholders
Technology-focused business with heavy investment in data and incident response
Based in London to be near supporting carriers and insurance talent pool
Offices in New York and Brussels as well as incident response centres in Austin & Brisbane
The largest cyber market in the UK, Canada and Australia, and a top 5 provider in the US
Leading Micro & SME Insurer for the New Economy
Specialist insurance provider and a pioneer in new economy risks
Focus on high volume micro & SME specialty business
Market leading distribution via extensive global network of broker relationships
Core products address the risks brought about by the intersection of technology and business
Significant majority of new customers are first-time insurance buyers
Focus on structurally growing markets that have experienced little to no Covid impact
Excellent Underwriting Performance
Consistently stable and profitable underwriting
Package products tailored to end customers, supporting high retention rates
Targets commercial lines with inherently profitable loss ratios generating outperformance
Underwriting guided by data from portfolio analytics, actuarial and data science teams
Platform allows near instant changes in rate or product coverage, supporting nimble underwriting
All underwriting centrally controlled with no sub-delegation
Well Positioned for Further Rapid Growth
Clear leader in rapidly growing markets with superior technology underpinning growth
Leading position in cyber market which is forecast to grow at 20% CAGR to 2025
Core target markets will grow as SMEs increasingly digitise and encounter new emerging risks
Accessing new, fast growing target addressable markets in cybersecurity and US admitted lines
Tech platform driving above market growth and increased operating efficiency
Vision to use tech & data leadership to create first global automated specialty insurance platform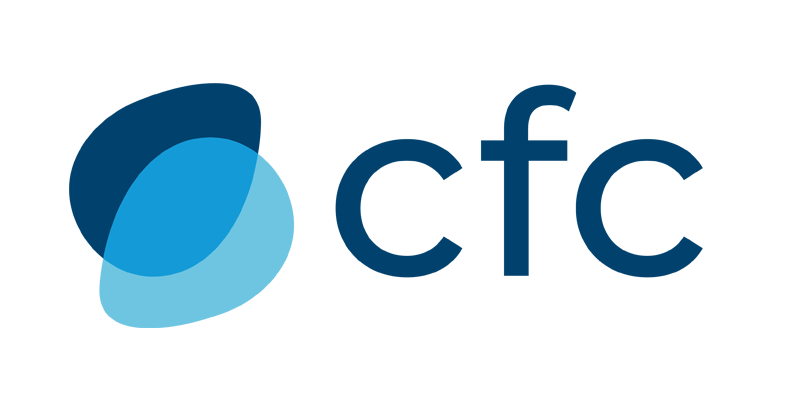 Portfolio
Classes of business
Geographical profile
The Asta platform – delivering for all stakeholders
In late 2020, CFC began working with the Asta Business Development team and in April 2021, in principle approval was granted by Lloyd's to establish CFC Syndicate 1988. The syndicate began underwriting in July 2021, marking the end of a process which saw the Asta team deliver critical and ambitious speed to market in just under six months.
Delivery
Following several months of working closely together, Asta and CFC secured "in principle" approval from the Lloyd's Council for the creation of CFC Syndicate 1988 on 28th April 2021.
The syndicate strengthens CFC's overall proposition and capabilities and was delivered without disrupting their existing operations at a critical time.
The new syndicate writes a fixed proportion of CFC's established portfolio of specialist emerging and cyber risks with target gross written premiums for 2021 of more than c.£100 million (c.$140m) and significant growth expected over the medium term given CFC's focus on areas of high structural growth.
The new syndicate further enhances CFC's ability to source low-cost capital from global capital markets to fuel its growth ambitions while bringing significant benefits to capacity providers and Lloyd's.
Capacity is provided by CFC, existing company market supporters of CFC, and new capital.
Syndicate 1988 is fully managed by Asta and final approval was secured to commence underwriting business incepting July 1, 2021, following an Asta-led accelerated approvals process.
Establishment of Syndicate 1988 further enhances Asta's credentials as a key partner for innovative, tech led businesses in the Lloyd's market.
Asta's platform delivers key objectives for all stakeholders
CFC
Accelerate growth ambitions through access to wider universe of capital providers
Unparalleled framework for writing global portfolio without associated physical infrastructure
Route to access non-insurance capital
Lloyd's
CFC's ethos, strategy, business focus and technology fit Lloyd's vision of the future
Majority micro-SME business that would not otherwise come to London
Shows further tangible progress on innovation and modernisation ambitions
Capacity Providers
Access low volatility, low limit, high growth and high automation portfolio
20-year CFC track record of consistently profitable underwriting
Access to CFC technology, designed both to prevent and mitigate potential losses
Commentary
"A CFC syndicate supports our ambitious, technology-driven roadmap by bringing new capital to the table and offering access to licensing and resources that only Lloyd's can provide."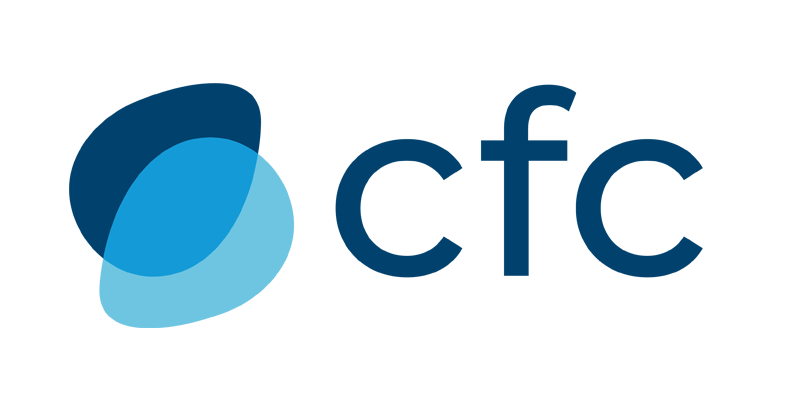 Dave Walsh,
founder and CEO of CFC
"We're proud to partner with CFC to bring Syndicate 1988 to the market. Their ethos, strategy and focus on technology embodies the spirit of the Lloyd's blueprint initiatives and is testament to our continued success in bringing innovation and modernisation to the market."
Lorraine Harfitt,
Asta CEO
"We are delighted to welcome CFC as a new entrant to the market and are confident their innovative new platform can make a positive contribution to our Future at Lloyd's ambitions."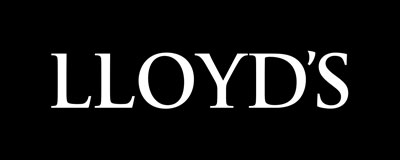 John Neal,
CEO Lloyd's of London
Key Metrics
The Asta Advantage - working for CFC
Asta helped CFC navigate the Lloyd's entry process in just six months, well ahead of the standard approval process timeline, demonstrating our unique ability to harness our in-house expertise, highly refined client start-up platform and flexible operating model to help clients achieve their objectives as quickly as possible.
CFC Syndicate Entry to Lloyd's timeline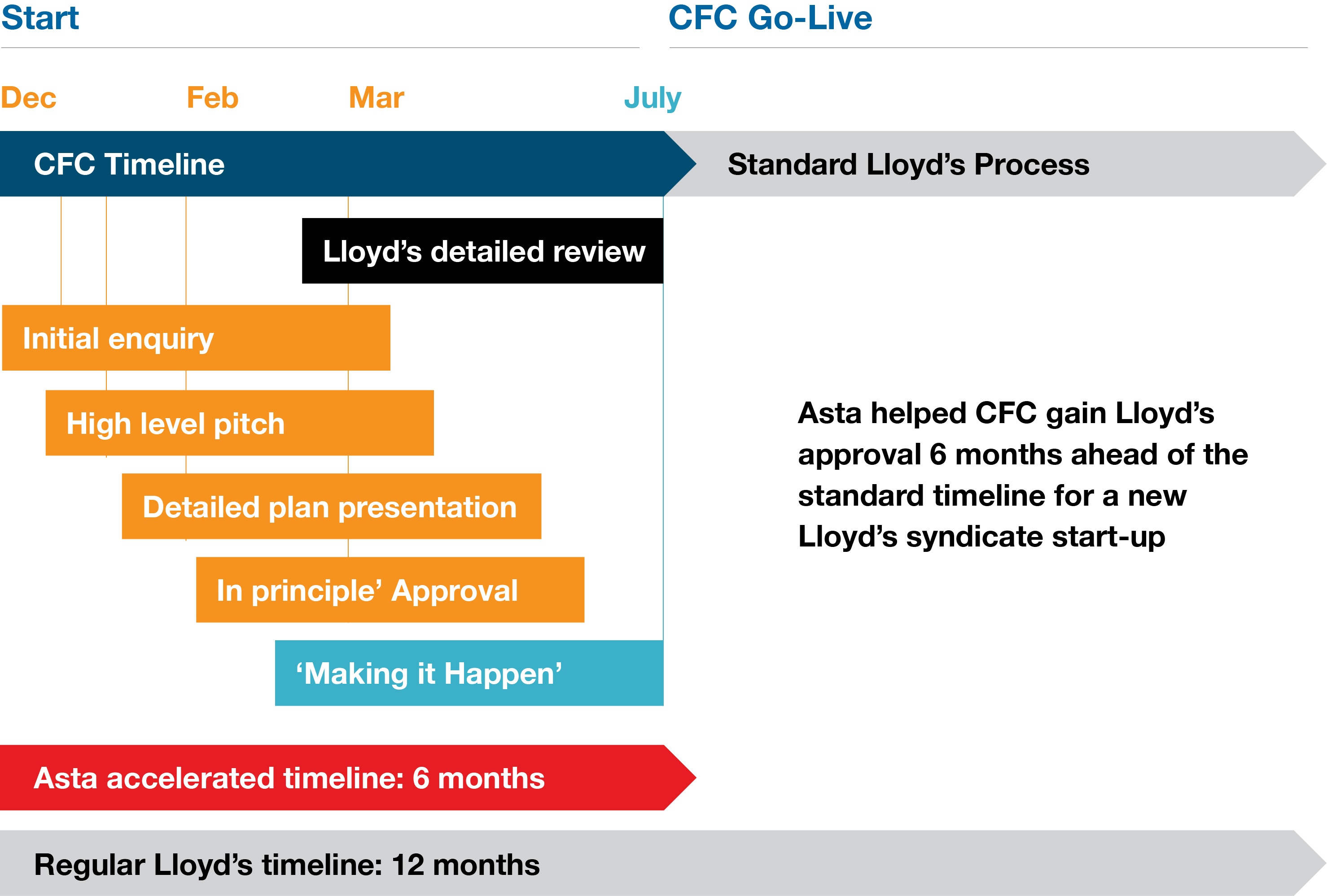 "We cannot compliment the team at Asta enough for their invaluable assistance in helping us launch the CFC Syndicate in super-quick time."
"This was CFC's first syndicate venture, so Asta's experience of many previous syndicate launches was critical, and they were able to guide us through the many steps of the process with great expertise."
"All at CFC are very grateful that we had Asta by our side for this game- changing step in CFC's development."
---
Key Achievements
Asta's tried and tested syndicate management and oversight framework provided a considerable timing and speed to market advantage during Lloyd's due diligence.
In-house expertise put Asta in a unique position to introduce CFC's cyber focused proposition and help decision makers understand its benefits for the market.
Unrivalled depth of resource pool meant that Asta was able to quickly scale up project resourcing as required to deal with Lloyd's requests and hit the target timeline.
Longstanding relationships across Lloyd's ensured Asta could deploy the necessary knowledge and advocacy for CFC throughout the approval process.
Asta's independent model provided Lloyd's with the additional comfort that Asta's designed control framework would appropriately manage the interests of the syndicate and the MGA.
Syndicate 1988 breaks new ground in the MGA market, represents an exciting new structure at Lloyd's and has generated significant interest from other established MGAs interested in applying the same solution to widen access to low-cost capital.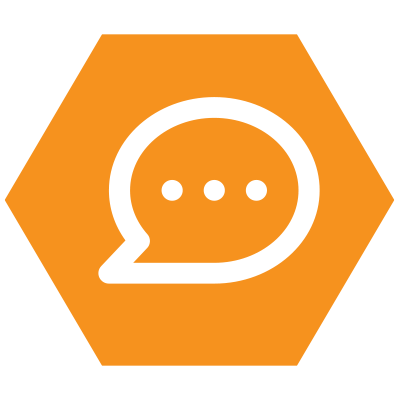 News, views and insights
Asta receives Lloyd's approval for technology-focused CFC Syndicate
Read the press release >>
Technology-focused CFC Syndicate 1988 opens for trading
Read the press release >>
The Asta Interview with Matt Taylor, Active Underwriter, CFC Syndicate 1988
"The Asta team had relationships with the right people at Lloyd's and a proven ability and expertise to navigate quickly through the entry process. That was massive, and we wouldn't have got it done otherwise."
Read the interview >>
---
Asta is the leading third-party managing agent at Lloyd's. We support a diverse range of businesses by delivering cost-effective underwriting management solutions tailored to your exact requirements and business lifecycle. Our goal is to help you achieve your ambition – of establishing a successful, profitable underwriting business.