A global reputation and iconic brand, access to world-wide licensing and distribution, financial strength and security – all of these things combine to make Lloyd's an attractive place for underwriters to do business. Add to this the ability to underwrite in multiple countries with a single regulatory filing and access to the best underwriting and broking talent in the world; it's not hard to understand why Asta continues to receive interest from entrepreneurs and companies looking to enter the market.
Unlike buying an existing Lloyd's business, which can be expensive and complex, a start-up syndicate begins with a clean slate. However, the application process to begin underwriting isn't straightforward and is becoming less so as Lloyd's priorities and market conditions change.
It goes without saying that anyone seeking to enter Lloyd's will require a credible business plan, established channels of distribution, and a successful underwriting track record. However, increasingly the market is also looking for operational capability and efficiency – including the effective use of technology – that can support a long-term business plan and in particular, a sustainable expense ratio.
Fortunately, third-party managing agents, such as Asta, exist to help new syndicates get established in Lloyd's. We act as an expert facilitator, helping new entrants establish their syndicates, but with all the independence to create their own identity, culture and operations. To go it alone is, these days, almost unthinkable.
Potential applicants may come directly to us, or be referred to us by a broker or other introducer. Our first job is to assess the likelihood of ultimate acceptance by Lloyd's. Using our judgement, experience, and knowledge of the characteristics which Lloyd's desires in a new syndicate, as well as a developed long-term view of the market, we assess the likelihood of an applicant's success. This prevents a lot of time and potentially costs being wasted on applications that are unlikely to meet Lloyd's requirements. While the key element of any application is a clear, compelling plan to bring new, accretive business to the market, applicants must also demonstrate how they will mitigate execution risk. For example, is the distribution in place? Does the applicant have the necessary capital and support? Does the proposed management team possess the relevant expertise to succeed?
Once the applicant and its third-party managing agent have prepared the application, a high-level pitch is made to Lloyd's. If that meets with approval, the applicant will then be asked to make a detailed plan presentation to the Lloyd's New Entrants Assessment Group. The next stage is then a review of the plan and application by both the Lloyd's senior executive management team and the Franchise Board following which 'in principle' approval is given. After this approval, the appointed managing agency will then work with the applicant to provide evidence of compliance with Lloyd's minimum standards requirements across all areas of the business, as well as the development of underwriting and claims frameworks and guidelines, licence applications, loan agreements and bank accounts. That work is then assessed in detail by Lloyd's before final approval to underwrite is given.
The applicant is then a Lloyd's syndicate. The first year is typically spent establishing the business, and working to achieve quarterly and annual targets agreed with Lloyd's at the time of entry. The syndicate is then truly on its way, supported by the flexible and scalable services of its third party managing agent.
Some syndicates choose to remain permanently under the wing of their third-party agent and continue to benefit from both the experience and economies of scale that are harder to achieve in a single syndicate managing agent. Others aspire to launch their own managing agency, working towards this over a three to five year period or longer, depending on the scale and complexity of the business.
We take huge pride in the long-term relationships we have with our syndicates – since 2008 Asta has helped establish twenty two syndicates in Lloyd's. But we recognise that when the time is right, some syndicates will choose full independence and their own managing agency. Whilst many businesses will regard losing a client as a major disappointment, here at Asta we see the five syndicates we have helped to establish their own agency, as a measure of success and a moment of great satisfaction in a job very well done.
For those syndicates that decide third-party management offers the best long-term solution for them, it is critical for the agent to have a flexible operating model and corporate governance structure which enables them to manage multiple syndicates effectively and without conflicts of interest. Whether syndicates choose to stay or go, with Lloyd's increasingly focused on the need for faster and more cost-effective methods of operation, third-party managing agents must also evolve to stay ahead of the game.
The third party managing agency that can do all of this, whilst supporting the entrepreneurial ambition that fuels the market, is well placed to help the continued flow of new applicants that come knocking on Lloyd's door.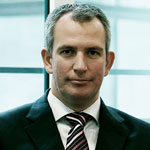 Keith Nevett has worked for Asta for over 20 years and is responsible for the Integration and Migration timetable of Asta's client base in addition to the management of current and prospective client relationships. Keith has worked and advised on 11 new Lloyd's start-ups and 8 syndicate migrations in the last 7 years and has been integral to the success of these achieving approval from both the PRA/FCA & Lloyd's. In 2006 Keith completed an MBA in project management from Henley Management College.
Prior to working in the business development team he worked in a number of operational and project management roles within Asta.